Summer is here and that means that wedding season is in full swing. From choosing the perfect bridesmaids dresses to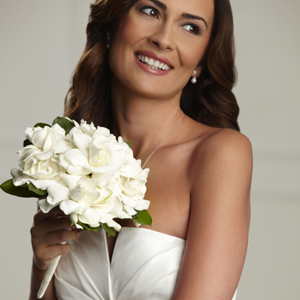 finding a photographer, there is a lot that goes into planning a wedding. Near the top of every bride's wedding checklist are flowers and finding a florist. Every bride wants her wedding to be adorned with hundreds of beautiful blooms and let's not forget the bouquets for the wedding party! But with so many different floral options available to her, how is a bride ever supposed to choose her favorite blooms for that special day? We have made a short list of some of the most popular wedding flowers used to create unique wedding flower arrangements:
Rose
Always a timeless classic and a long standing symbol of love and beauty, there is no other flower that is more perfect for a wedding than a rose. A metaphor for true love, the rose is quick to make almost every bride's list of floral must-haves for her wedding. With so many different gorgeous colors and types of roses available, it's no wonder why this iconic bloom is an A-lister in the world of weddings.
Peony
Peonies are big, bright, beautiful, and smell nothing short of amazing. What more could a bride want from a wedding flower? Peonies are used to create lavish bouquets and arrangements that are breathtakingly beautiful. Given these blooms' outward appearance and limited availability, peonies are fairly expensive and only available to brides from late spring to early summer. We're not saying that you should take this into consideration when setting a date, but....they would help make for an absolutely stunning wedding.
Hydrangea
Another flower that is known for its big head of gorgeous blooms, the hydrangea is another popular celebrity in the wedding world. Available in bright and vibrant shades of white, green, pink, burgundy, and blue, hydrangeas are sure to add a luxurious feel to any arrangement or bouquet. These blooms tend to be moderately priced and they offer a great way for brides to create their dream bouquets.