For years, men have donned boutonnieres for formal events such as weddings and proms. However, in today's modern age, many men have shied away from wearing these floral decorations. Many men today dismiss the boutonniere as feminine, but we have a very different opinion. For years, boutonnieres have been seen as a sign of sophistication and as such, there is a very specific way boutonnieres should be worn. Guys, if you have a wedding up, here are a few tips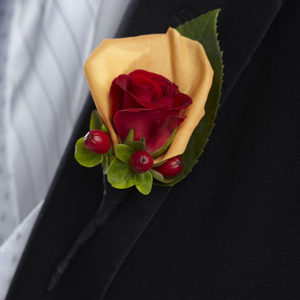 for wearing your boutonniere the correct way:
Where Do You Wear It?
Boutonnieres are worn on the left lapel of a men's suit, sport jacket or blazer jacket. They can even be worn on an overcoat. Boutonnieres are always fastened above a man's heart and should be worn in the buttonhole of the suit. However, not all suits have buttonholes. Typically only higher-end suits have buttonholes.
What If Your Suit Doesn't Have A Button-Hole?
If your suit or jacket doesn't have a button-hole, there are a couple of different ways you can attach your boutonniere. The easiest and most commonly used solution is to pin the boutonniere to your lapel. Although this was once seen as unattractive, this method has become more acceptable because florists have been able to make the flower stems look more attractive. You can also have a seamstress cut a buttonhole cut into your suit. Just make sure that you leave plenty of time before your event to have this done. Also, this should go without saying, but do not have a button-hole cut into a rental suit.
Be sure to check out our selection of wedding flowers and other unique flower arrangements in our online store.