The Flower for January is the Carnation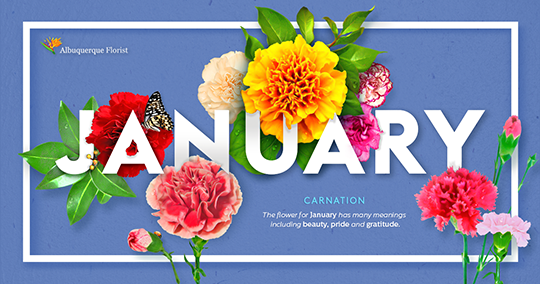 January's birth flower is the Carnation. Carnations have many meanings including, beauty, pride and gratitude.
The carnation often gets a bad rap as a trash flower because they are easy to grow and inexpensive to buy. In truth, the carnation is a lovely long-lasting flower with a sweet scent. The carnation was probably native to the Mediterranean region but it has been cultivated for so long in so many places the exact origin is difficult to determine.

Carnations are often called dianthus, their botanical name. The word dianthus come from Greek. Dios refers to the Greek god, Zeus, while anothos means flowers, thus dianthus (carnations) are flowers of the gods.

The snowdrop (galanthus) is also a January flower. One of the first flowers to bloom in spring, they symbolize beauty, hope and rebirth.

Carnation Colors and Meaning
Like roses, each color of carnation has a special meaning.
Red - love, affection or admiration
Dark Red - deep love
Pink - Thankfulness and gratitude
White - pure love, innocence, and good luck.
Purple - whimsy and unpredictability

Occasions
Carnations are often worn on Mother's Day, Teacher's Day and green carnations are worn on St. Patrick's Day.

Weddings and Anniversary
Carnations are also popular wedding flowers and are the official flower for the 1st Anniversary.

State Flower
The carnation is the State Flower of Ohio

.

You May be Interested In